It's no secret that fur was one of the hottest trends of the season with a presence in most major runway shows. But fur is more than just fashionable, it is also one of the most sustainably-produced natural resources on the planet. Furs such as coyote, fox, beaver and muskrat have been used for centuries to provide warmth and incredible versatility. And when these furs are used responsibly, it's not just the fashion industry that thrives, our natural environment benefits too!
Why trapping?
Nature, like most things, requires balance. This balance today includes the coexistence of humans and animals, and the modern fur trade plays a role in helping to maintain this relationship. Without regulated trapping and hunting to manage the size of wildlife populations, many ecosystems would be drastically affected. Regulated trapping is also often necessary to protect property and natural habitat, and to protect both humans and wildlife from disease. Let's look at a couple of examples.
Leave it to Beaver!
The historical fur trade that led to the foundation of many of our towns and cities was fueled, above all, by the beaver. After more than 400 years of commercial fur trading in North America, biologists tell us that beavers are as abundant as they were when Europeans first arrived here – thanks to modern trapping regulations. However, too many beaver can be as much a problem as too few beavers. Left unmanaged, beaver populations will keep increasing until they eat themselves out of house and home.
Once vegetation is destroyed, it will take many years before beavers can return to the region. With regulated trapping, beaver populations are maintained in balance with available habitat – they are more stable and healthier. Furthermore, overabundant beavers can flood homes, roads, fields and forest habitat. Much better that we use some of what nature provides!
One of the first furs to be used for clothing by First Nations people, beaver is still widely used today by some of the top designers. Specifically, on the runway this year, Givenchy has used beaver to create a sleek bomber jacket, Haider Ackermann showed a monochrome coat while Chloé featured a spectacular beaver vest.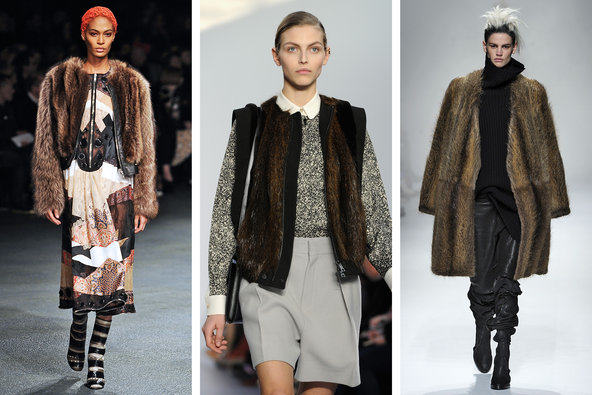 Coyotes get wild!
Coyotes are highly abundant across North America. They adapt well to human proximity and have profited from wolves being pushed out of much of their traditional range. Coyotes, however, can become dangerous when they are overpopulated and lose their fear of humans. In California, where I live, coyotes have been taking pet dogs and cats from backyards! They can also cause serious problems for cattle ranchers and sheep farmers when they prey on young calves and lambs. And overpopulated coyotes are more likely to spread diseases including rabies, tularemia, and hepatitis which can be transmitted to both animals and humans. Regulated trapping seasons help decrease the negative interactions between humans and wildlife – so why not make use of this remarkable natural resource?
Coyote fur, warm and dense, is great for making rugged men's jackets. It's beautiful, natural hue has also been popping up in women's accessories and shoes. And, of course, it is the favorite choice for trimming the hoods of down-filled parkas. (Fur trim on your parka hood protects your face from the cold winds of winter like nothing else!)
Think about it!
So here's the real question: since wild furbearer populations are abundant and, in many cases, must be managed to maintain a balance with available habitat, should we kill these animals and throw them away? Or is it more respectful to use this beautiful natural material?
What do you think?