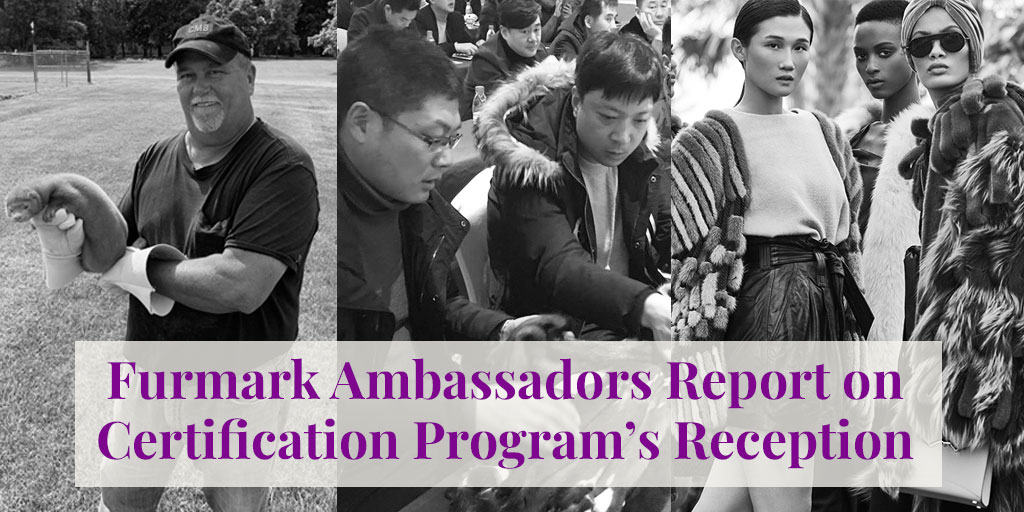 The International Fur Federation (IFF) has appointed a range of fur industry "Ambassadors" as well as retained the services of outside industry consultants to market, promote and provide information on the Furmark® certification. The Ambassadors represent their respective regions and will be responsible to outreach to a range of firms and contacts to share the merits of – and encourage inclusion in – the Furmark certification program.
Sandy Reports reached out to several of the Ambassadors provided by the IFF and asked them to share feedback they have received to date from their respective regional outreach.
In their own words …
SEE ALSO: North American fur trade – ahead of the curve on traceability. Truth About Fur.
Molly Wang, IFF China – Furmark Ambassador, Asia
Regarding Furmark, I had conversations with fur people on my previous two trips in China this month. In general, bigger manufacturers for domestic market and exporters for Russia are viewing Furmark as a very positive tool either for increasing their revenue or simply for their own publicities use. For those manufacturers who do OEM fur garments for fashion brands and for Russian market, they believe that if their clients accept Furmark, then they should join as quickly as possible, so they will be receiving more orders than those who don't. That's why they want to know how Russians are truly viewing Furmark.
The smaller ones are definitely showing interests on Furmark as well but given that they don't buy as many skins from auction houses as the bigger companies, so at the moment, instead of applying immediately, they'd rather take wait-and-see attitude to see how things are going with bigger ones. (For exporters, they also comment that they want to know how Russians react to Furmark, which I think is reasonable.)
Retailers, we have a well-known brand in China who take initiatives to have included Furmark as part of their own marketing strategies in the coming retail season, really move fast and even push IFF to provide more marketing toolkit for them.
As for Chinese domestic market, if Furmark will be known and accepted by Chinese consumers, it for sure will help a brand to sell more garments over others who don't use … what Furmark stands for, such as sustainability, traceability system, green materials etc.
These ideas are very popular in the fashion world in China in recent years, you can hear these talks, discussions on almost every fashion-related Seminar or Forum in China. LV and Fendi's joining in has become an endorsement for Furmark in the fashion world.
Jan Erik Carlson – Furmark Ambassador, Europe
I have been working as a freelance consultant for IFF for more than a year now, with a focus on developing and implementing the Furmark system in the fur trade and fashion industry. Acting as an ambassador in the outreach to the fashion brands in Europe is a natural extension of my assignment.
Behind the handful of much publicised brands that have said no to natural fur, I still find a genuine interest in fur. I would even say that in the post-covid markets there will be an increased interest in materials that are authentic and sustainable. Natural fur actually ticks all the boxes in this respect, and the Furmark system can provide the assurance and confidence that consumers need to buy natural fur.
Both my personal contacts in the fashion industry and the extensive research that has been conducted globally in B2B [business-to-business] and B2C [business to consumer] segments by IFF, points to the fact that Furmark is the right concept at the right time. Most companies in the fashion industry do understand that they need a new strong tool to be able to promote and sell natural fur. Although fake fur is an alternative, there is no way around the fact that it is a plastic product that does not add any value to their products/brands compared to natural fur.
Having worked intensely with Furmark for more than a year, I am left with a feeling that there is a future for the fur trade. Although we have had some setbacks in recent time, I still experience that natural fur has a unique cachet and the material is aspirational for many designers and consumers. The high level of interest in signing up to the Furmark system across the markets is a good indication for the future!
Charlie Ross – Furmark Ambassador, North America
The designers that I am concentrating my Furmark efforts are fur-friendly and sell to boutiques and direct to consumers. They are, of course, disappointed that department stores will not buy, but many of the mid-level designers do not sell to department stores. I did not ask any questions about their reaction to fur. I have been mostly targeting designers in New York. They are all suffering in their business with decreased sales, so they did not bring up a change of attitude to fur. To be honest, I have been speaking to fur-friendly designers. They have been busy with their spring collections, and we are doing a Blackglama project, so they seem happy. I think that Furmark will provide additional confidence, but without the department stores the fur business will be smaller in the future.
The designers that I have reached are very supportive of the Furmark concept but they are waiting for the program to launch in Q4. The designers think that an organized and common language of selling certified furs is important in light of department stores that have stopped selling fur. The actual language is still being discussed but the concept has been very well received. I think after the September shows this will be a more relevant conversation as the designers will think about fall and fur. I will have a Furmark presentation during Fur Vision this year to really bring the message to the trade. The IFF wants to do the designer outreach before the trade.
The fur farmers seem to understand that the manufacturers and retailers need a concept to provide confidence to their customers. The trade in New York has not really commented on the Furmark program since it launches the end of the year. The IFF would need to do some outreach to the trade to try to get the information about Furmark to the trade. This has not started and is a program for the fall.
The big brands in Europe are also supportive about Furmark because they feel it is a way to give confidence to the consumer and the program covers a lot of fur types which they sell.
I think the lack of action about the loss of department stores is shocking. We won the political battle in some states, but we lost Saks and Neiman.
Maksim Chipurnoy, Russian Fur Union – Furmark Ambassador, Eurasia Region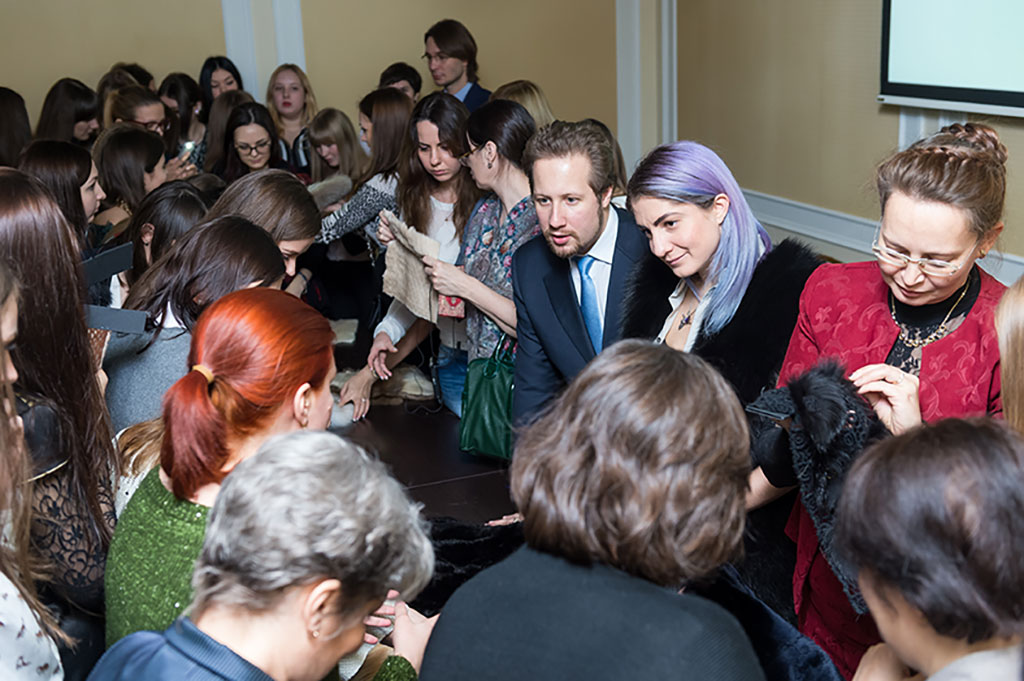 The reaction to Furmark in Russia and Eurasia is positive, Turkish brands are already joining the project and there is interest from major players from Russia, Kazakhstan, Belarus. As in fact the Eurasian Economic Union has a mandatory traceability and labelling system in place by law since 2016, many players are interested in how technically the Furmark project can integrate into the existing system. We continue to negotiate with key industry players about joining the Furmark project.
The response to the Furmark project concept has also been received positively by almost all sectors of the fur industry. Proof of this: most sable fur farms in Russia have already joined the project and have been certified by independent inspectors from the Research Institute for Animal and Rabbit Breeding, two major auctions Sojuzpushnina and Ruspushnina, which sell Russian sable skins, have also been assessed for compliance with the Furmark project by independent experts from the Federal Centre for Hunting Development and, starting in 2021, all furs sold in Russia are certified. Plans for the near future include the inclusion of Uzbekistan and Uzbek Karakul in the Furmark project.
The main drivers of the fur trade are still China and Russia. In Russia, the turnover of fur goods is about US$3 billion, and compared to 2020, there is a noticeable revival of the market, sales growth, and a systematic return of business indicators to the pre-pandemic level.
***
To learn more about donating to Truth About Fur, click here.