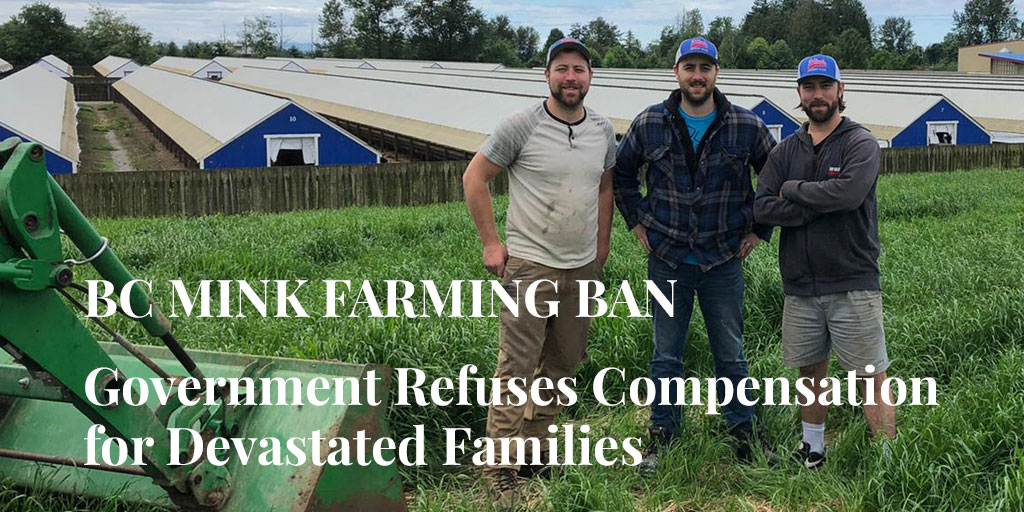 British Columbia's Ministry of Agriculture, Food and Fisheries has yet to show any science to justify its drastic decision, last November, to introduce a mink farming ban in that province. The failure to provide any serious evidence that mink farming might compromise efforts to combat Covid-19, as the government – echoing animal activists – claimed, raises questions about its real motivation. Even more alarming, the government has refused any compensation for the farm families whose life work and livelihoods have been wiped out.
Rewind to July 2021. After three of BC's nine mink farms had tested positive for Covid-19, the Ministry of Health drafted an order imposing a moratorium on any further breeding. Since the order would expire in January 2022, before the start of the next breeding season, it did not constitute an immediate threat to farms. But the possibility that the order might simply be extended made planning impossible. So the farmers objected, and the final order instead just prohibited them from increasing the current size of their herds.
Then in August, the government upped the ante dramatically, advising mink farmers that a ban was being considered. In response, the farmers collected a broad range of science demonstrating that, with proper biosecurity measures in place, mink farming could continue without endangering public health. Included were materials from the World Organisation for Animal Health; the Centers for Disease Control and Prevention, the Food and Drug Administration, and the National Veterinary Services Laboratory in the US; and the European Centre for Disease Prevention and Control.
In direct contradiction of this international scientific consensus, on November 5 the BC government dropped the bombshell.
First the Ministry of Agriculture called the farmers to say that the Ministry of Health had reassessed the threat posed by mink farming, and the entire sector was to be "phased out". Breeding was permanently banned, effective immediately, the last live mink had to be gone by April 2023, and the last pelts must be sold by April 2025. After that, mink farming in BC was history.
With the farmers still reeling in shock, Agriculture Minister Lana Popham, backed up by Provincial Health Officer Dr. Bonnie Henry, then called a press conference the same day to publicly announce their decision.
…
So Many Questions
Immediately the questions began to fly, and not just from fur farmers. Even veterinarians and virologists with expert knowledge of mink farming were perplexed. Only one farm in BC still showed signs of Covid, so why didn't the government just continue to keep that farm in quarantine, or even cull all its mink? Why close down the entire sector?
And there were more troubling questions the BC government has still failed to answer adequately, or at all. For example:
Question: Is the ban really about protecting the public from Covid, or is it at least in part about appeasing aggressive BC animal rights groups? Popham insists her decision was based solely on public health concerns, but has yet to provide any scientific data to justify such a radical move. Meanwhile, animal activists themselves seem to contradict her claim.
For years, the British Columbia Society for the Prevention of Cruelty to Animals (BCSPCA), The Fur-Bearers, and Humane Society International (HSI) have been campaigning to end mink farming in the province on "animal welfare" and "ethical" grounds. But, when Covid started appearing on mink farms, these groups immediately began scaremongering about a "public health risk".
These groups are also known to have had many meetings with Popham over the past year, and the minute Popham announced her ban, they began congratulating themselves for a job well done. Crowed HSI chief Kitty Block on her blog, "The move follows an intensive campaign by HSI/Canada, as well as our allies … HSI/Canada and our partners have consistently called on the British Columbia government to ban fur farming in the wake of disturbing reports of horrendous animal suffering in these facilities" [italics added].
Question: Why is BC so out of step with other governments tackling the same pandemic? Back in 2020, when the Danish government ordered the killing of 15 million mink, scientists knew much less than they do now about the risk of mink passing new Covid variants to humans. It's since been established that the public health risks posed by mink farming are low and manageable, especially in a country like Canada where farms are few and remote from large human settlements. And even Denmark never banned mink farming — and is now compensating farmers to the tune of millions of dollars for their lost animals.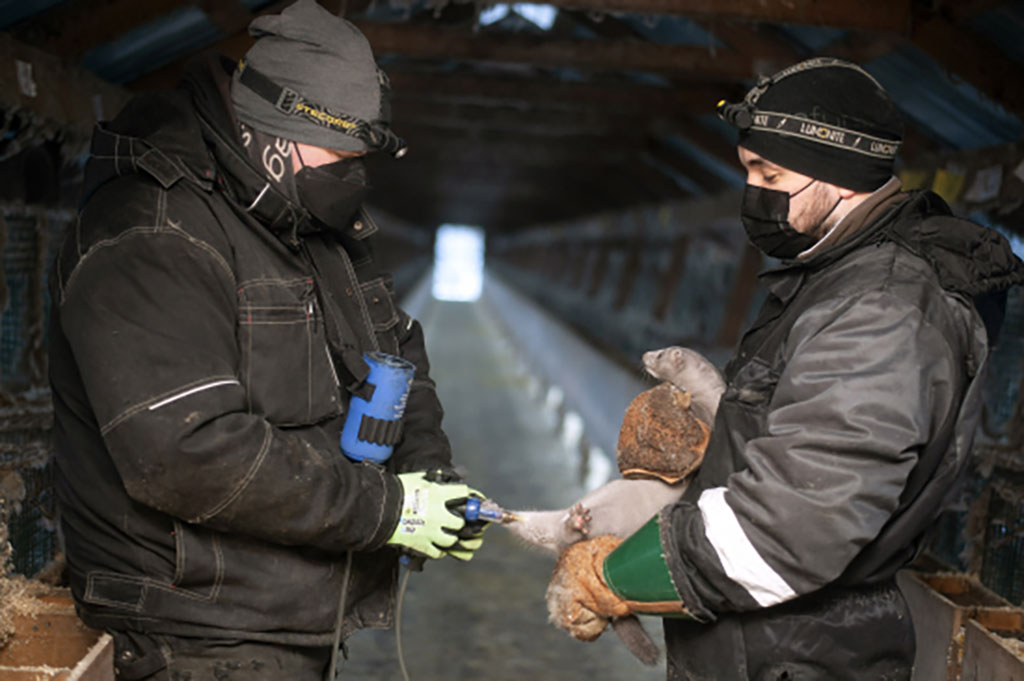 Further reducing the risk to public health are the unprecedented biosecurity measures being deployed on mink farms, plus a Covid vaccine developed specifically for mink, which began rolling out last year. Fur Commission USA reports that about 95% of that country's mink herd have now been vaccinated, and Finland's vaccination program is also advancing well. Vaccine access in Canada was limited in 2021, but Zoetis, the US manufacturer, has committed to having enough vaccine available this spring for all Canadian mink. Most of the doses available to Canada in 2021 were used on Nova Scotia mink farms, who purchased them through a cost-sharing agreement with the federal and provincial governments.
The BC government surely knew that vaccines were on the way, and that they promised to resolve the very public health issue it claimed to be addressing. That fact alone strongly suggests it had already decided to ban mink farming, and the imminent availability of vaccines may have forced it to advance its schedule to implement the ban.
Question: Was the timing of the ban a cynical ploy to avoid ordering a cull, and thereby having to pay farmers compensation?
It seems too convenient, from the government's viewpoint, that the ban was announced in November, just when farmers were about to harvest their mink. The ban on future breeding put farmers under immense financial pressure to harvest their breeders as well. Within weeks, the farms were almost empty of animals, without any need for the government to order a cull – which would have automatically triggered the requirement to provide compensation.
Question: If, as the BC government claims, farmed mink really posed an unacceptable health risk in November 2021, why did it allow farmers to keep live mink until April 2023? And why were farmers allowed to sell and transport live mink to other jurisdictions?!
Question: If farmed mink pose an unacceptable health risk because they can catch Covid, what about all the other animals we now know can catch it? Pet ferrets, hamsters and cats live in homes, potentially exposing children and the elderly to the virus. Large cats and other animals in zoos have been found with Covid, as have a high percentage of North American white-tailed deer and mice. In fact, there is evidence suggesting that most mammals can transmit the virus even if they don't show symptoms.
Question: And why just Covid? In 2004, British Columbia had an outbreak of another zoonotic disease, avian flu, worrying the government enough for it to order the culling of 19 million poultry. Then in 2009, Canada was swept by a strain of swine flu that killed at least 428 people (as of February 2017). But in neither case was the possibility ever considered of shutting these industries down. Authorities worked with farmers to mitigate the risks, as they should. BC's mink farmers, however, got different treatment altogether. Why?
No Compensation?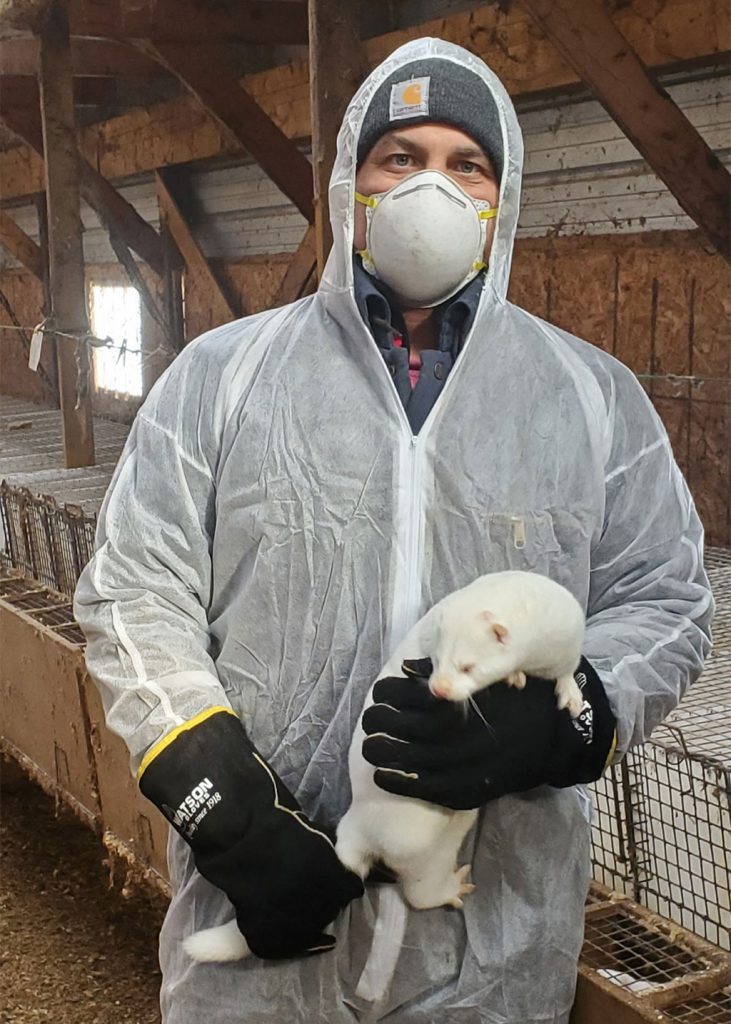 The fact that the government could close down an entire farming sector, without showing any science to justify it, is cause for concern for anyone in agriculture. But BC's mink farmers now face a more pressing problem: If the government is true to its word, farm families will not be receiving one cent in compensation, and that will spell financial ruin for many.
When Popham addressed the news conference last November, she made it sound like her ministry would do the right thing and work with farmers to help them "transition" to other activities. The issue of money was deftly skirted around, but she pledged "to help them pursue other farming, business or job opportunities that support their families." Nice words, but to date no real assistance has been forthcoming. (Although at one meeting the government-appointed consultant did offer farmers the number for a suicide prevention hotline!)
But compensation for the farmers is not only needed, it is surely deserved. For generations in some cases, farm families strived to refine the genetics of their herds. Thanks to their efforts BC produced some of the finest farmed mink in the world, consistently ranking in the top 5% of prices at international auctions. With the stroke of a minister's pen, all that work has been destroyed.
On November 29, Joe Williams, president of the BC Mink Producers Association (BCMPA), wrote to the ministry asking to see the science and data used to justify the ban, and requesting an urgent meeting "as decisions need to be made". On December 10, Deputy Minister for Agriculture Tom Ethier replied. The ministry would only be dealing with "individual producers", not "provincial, national, and international industry groups" – a strategy known as divide and rule. He also stated unequivocally, "The Ministry will not be offering compensation to mink farmers because of this ban."
Instead of support, BC mink farmers got bureaucratic waffling. "We continue to want to work with producers to find the appropriate supports within existing government programs and support any that wish to transition to other agricultural industries," wrote Ethier. "We will make staff available to work with mink producers to explore what is possible regarding financial support within these existing programs."
So how have these vague promises panned out so far? "There is no deal. Nothing," said Williams. "They are saying it's due to Covid and they don't have to pay. There is no compensation, they are not even paying the employees. They in fact are leaving us with massive debt."
Massive Debt
In fact, the government's arbitrary action will place many farmers in a deep financial hole.
BC mink farmer Terry Engebretson told the Vancouver Sun that aside from losing his job, he'll also be stuck with millions of dollars of debt. "This isn't a transition, it's an eviction," he said. "The banks are looking at us and realizing we don't have any income."
In 2010, Engebretson drew up a 20-year plan that included a mortgage to pay for barns, pens and a feed-preparation room. If he switched to another type of farming now, he'd have to tear down the barns while still paying the mortgage on them. And with the way many agricultural sectors in BC are supply-managed, if he switched to chickens, for example, he'd need to buy an expensive quota, assuming that it was even available.
"No bank is going to touch me," he told the Sun. "I'd be piling debt on top of debt. I'll be lucky if I can keep my home."
It's hard to see a happy ending to this story. Time will tell whether the government's decision was really justified by the science, or whether more insidious influences were at play. What is sure is that the life work and livelihoods of farm families have been destroyed.
The Ministry of Agriculture has abruptly declared a successful and well-regulated farm sector to be illegal, without providing any scientific justification for its action. At the very least, surely it now should provide fair compensation to those affected. The BC government needs to acknowledge the suffering it is causing to citizens who have done nothing wrong, and take full responsibility for its decision. That includes loosening its purse strings immediately.
***
To learn more about donating to Truth About Fur, click here.