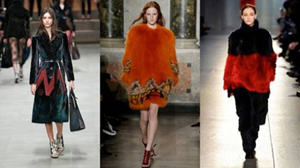 One of America's most prestigious art schools, the School of the Art Institute of Chicago (SAIC), has launched its first program for fur designers. This is a significant confirmation of the importance of fur in fashion, and other schools are expected to follow SAIC's example.
The prestige attached to SAIC's endorsement of fur is huge. In a 2002 survey by the National Arts Journalism Program at Columbia University, SAIC was named the "most influential art school" in the United States.
In 2012, US News & World Report ranked SAIC the tied second-best graduate program for fine arts in the U.S., and in 2013, The Global Language Monitor ranked SAIC as the 5th best college in the U.S., the highest ever for an art or design school in a general college ranking.
SAIC's move can also be seen as recognition of fur's current prominence on the fashion scene.
Hailing as one of the biggest trends of the 2015 season, fur had a major presence this year on the runways at New York, London, Milan and Paris Fashion Week. Not only did fur dominate, appearing in over 70% of designer collections, but it also took over the streets as major bloggers and editors from all over the world showed off their fur street style.
Design students from all over the world are noticing and becoming more interested in using fur. It's important that programs are in place for them to learn the material at their chosen school. With so many opportunities in the fur industry, students in these programs would learn to sew, design, and embrace what fur can do for their collections.
A Collaborative Effort
SAIC's decision to add the new fur program to its curriculum followed seven months of collaboration, and 15 students are already registered for its first class. Teaching them will be Liat Smestad, for many years lead designer for the Carol and Irwin Ware Fur Collection. The Wares were style-setters on Chicago's Magnificent Mile, introducing the city to such designers as Fendi, Dior and Zuki.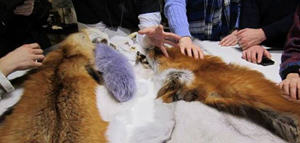 "Even today's most in-demand designers had, at one point, never sewn a garment," says Kathy Rezny of York Furs in Deer Park, Illinois, not far from Chicago. Rezny has been a huge driving force behind SAIC's decision to embrace fur design. "Those with a true passion for fashion worked their way up and now grace the runways of New York, Paris, Milan, and beyond. Every designer has a story, and York Furs is so excited to support local fashion students as they embark on their journey to create fashion forward designs."
Materials for SAIC's new students are being sourced by Samantha Grala of New York-based ER Fur Trading Corp. ER Fur Trading provides production services in the US, China, Hong Kong, France, Israel and Italy, and also produces its own line of fur garments. Grala, meanwhile, is a member of Fur Futures, an international networking initiative set up to support the next generation of fur designers.
Also involved in the effort to expand options for would-be fur designers in the US is the Fur Information Council of America. Says Keith Kaplan, FICA's executive director, "We are presently in discussion with several other design schools and we hope to make similar announcements in the near future."