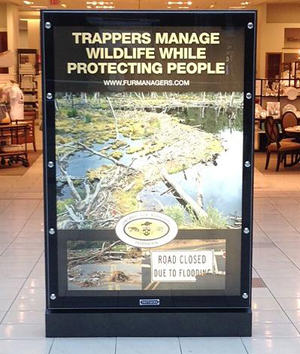 Ontario trappers have launched an exciting new campaign to inform the public about how they protect people and property by responsibly managing wildlife populations.
"We are trying to reach that 80% of the population that simply does not know what we do or why and how we do it," says Robin Horwath, General Manager of the Ontario Fur Managers Federation (OFMF).
OFMF's posters carry a bold headline stating that, "Trappers Manage Wildlife While Protecting People!" This message is accompanied by three large photos of forest land under water and a road closed by beaver flooding.
For more information, the posters direct people to the Ontario Fur Managers' website at www.Furmanagers.com.
Street-Level Ads
The campaign over Christmas featured large posters in two major Ontario malls, one in Ottawa's Bayshore mall and one in Toronto's The Path mall. In March, the campaign will shift to street-level advertising in Toronto and ads on six Ottawa buses.
"Last year, I saw some street-level info ads about the oil sands and I thought: that's what we've got to do; we've got to get out there and tell our own story!"
"People are intelligent, but they can't make the right decisions if we don't give them the facts," says Horwath.
Of course, a few posters will not change the world on their own, at least not immediately. But imagine if trappers' councils across North America did the same thing!