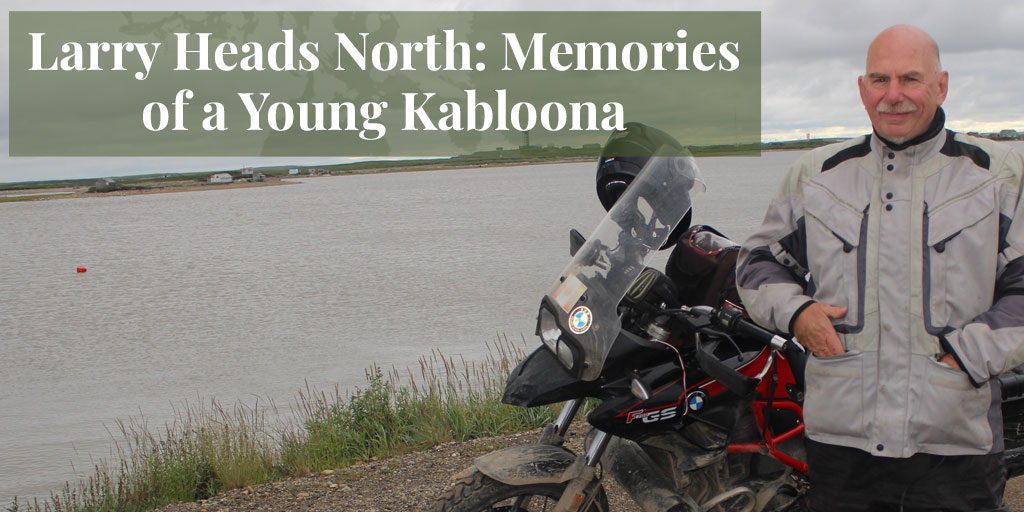 I went North with the Hudson's Bay Company in April of 1969, a young guy of 19 with a lot of curiosity about Inuit and the Arctic. I was also a kabloona, or white man, embarking on a journey that would shape me for the rest of my life.
My preliminary interview was at the Hudson's Bay Company fur-buying warehouse in my home town of North Bay, Ontario. My brother had been doing some trapping while at high school and we sometimes went in to the HBC to buy a trap or two, or sell a few of his furs there. So I was familiar with the place.
I guess I passed the test, and next thing I was off to Winnipeg for more paperwork, a medical, and a bit of dental work. Then it was off to Cambridge Bay on Victoria Island, at 69° North, or about 3° above the Arctic Circle. I flew with the district manager in the company's DC3 on skis. We got weathered in at Churchill, Manitoba for a couple days along the way.
Cambridge Bay was a larger regional centre by then, and I was mostly involved in retail sales to the Inuit, commonly called Eskimos at the time. Inuit were going through big changes then, moving in from camps to the settlement where there was a store, church, school, and the Royal Canadian Mounted Police. The transition from igloos to wooden houses, and from dog teams to snowmobiles, was well under way. Unfortunately there was a lot of drinking at the time, in part because of the cross-cultural shocks, and I got tired of that aspect pretty quick.
SEE ALSO: Animal rights agenda anti-human, harms nature. By Larry Simpson for Truth About Fur.
In Amundsen's Footsteps
After ten months I got an opportunity to move to Gjoa Haven, a small community of a couple hundred people on King William Island, near where John Franklin's ships were subsequently found on the ocean bottom. I liked Gjoa Haven, which was named after Roald Amundsen's ship Gjøa, which over-wintered there early in the 20th century. Both Cambridge Bay and Gjoa Haven have Inuktitut names now – Iqaluktuuttiaq and Uqsuqtuuq – and it is considered respectful to call the people Inuit, not Eskimos.
Gjoa was where I got my real appreciation of Inuit as denizens of the frozen land and seascape. There was virtually no drinking there, and I was able to get to know some of the people there very well.
I was manager-trainee which kept me busy doing everything from retail sales to book-keeping, and buying fur and carvings. I learned to grade white fox, ring and harp seals, wolf, and polar bear skins. We had an SSB radio to communicate with Cambridge and other communities as necessary, and we had an airplane once a week, a Twin Otter on floats or skis depending on the season.
Char, Geese, and Ptarmigans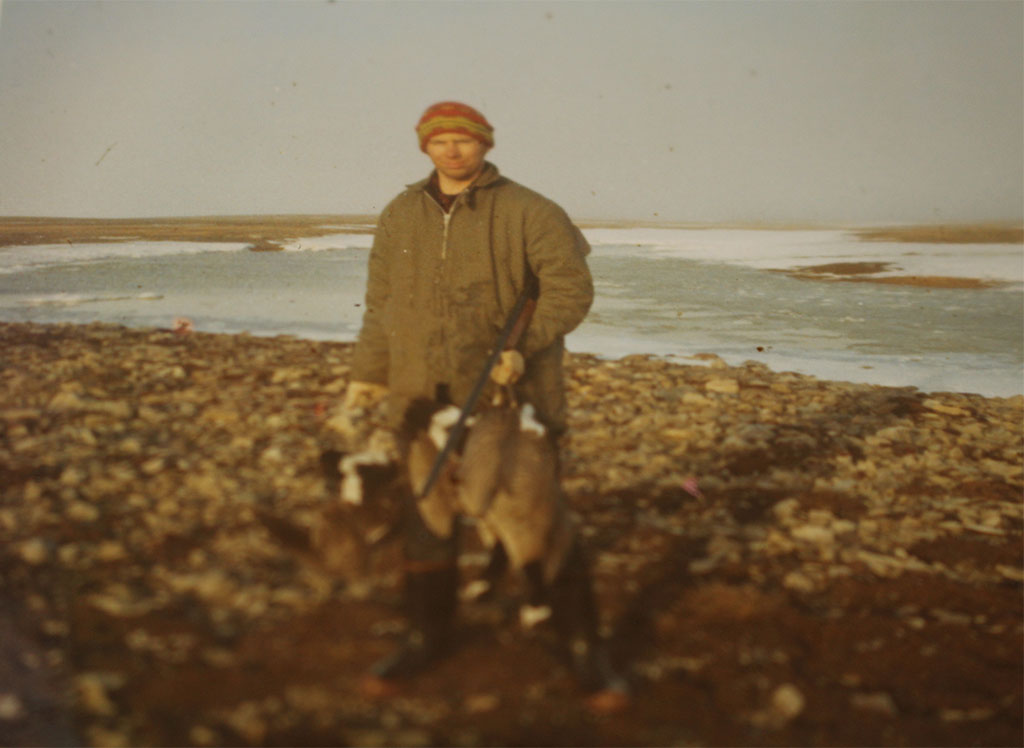 I had a tent out by the river where I would spend weekends fishing for arctic char and hunting for Canada geese. In winter I went out with Inuit on occasion to check their fox traps. I bought myself a 15 HP Olympic snowmobile and I would go out hunting ptarmigans on the flat terrain in the area.
One could get lost very easily there so I had to be careful about whiteouts that could come up quickly. But generally I would be with Inuit friends, who were always happy to take out a kabloona like me and show me their ways. The relationship between employees of HBC, or Bay Boys, and the local people had always been quite good in the area. There were some Here Before Christ and Hungry Belly Company jibes that came with HBC having no competition, but generally things were fair.
I looked forward to getting out on a caribou hunt and finally I got my chance. Three Inuit hunters and I travelled over ice and land for the first day until we stopped at a likely looking spot with good drift snow and built an igloo. It was fascinating to observe and pitch in. It was done just in time as the weather turned nasty and we were in there for 24 hours. One of the hunters had found an owl nest with eggs so he took two, leaving the rest to hatch. Those were cooked in our tea on a primus stove inside. There was a drip, drip, drip from the uppermost point as things warmed up.
I recall one incident in particular in that igloo that summed up the importance of sharing everything. My companions observed me brushing my teeth and spitting out into a little hole I'd made in our snowy floor. They asked if they could use my toothbrush to do the same. My kabloona upbringing said absolutely not, but of course I had to consent!
SEE ALSO: Amazing facts about fur: Dressing for the Arctic. Truth About Fur.
Winning Some Respect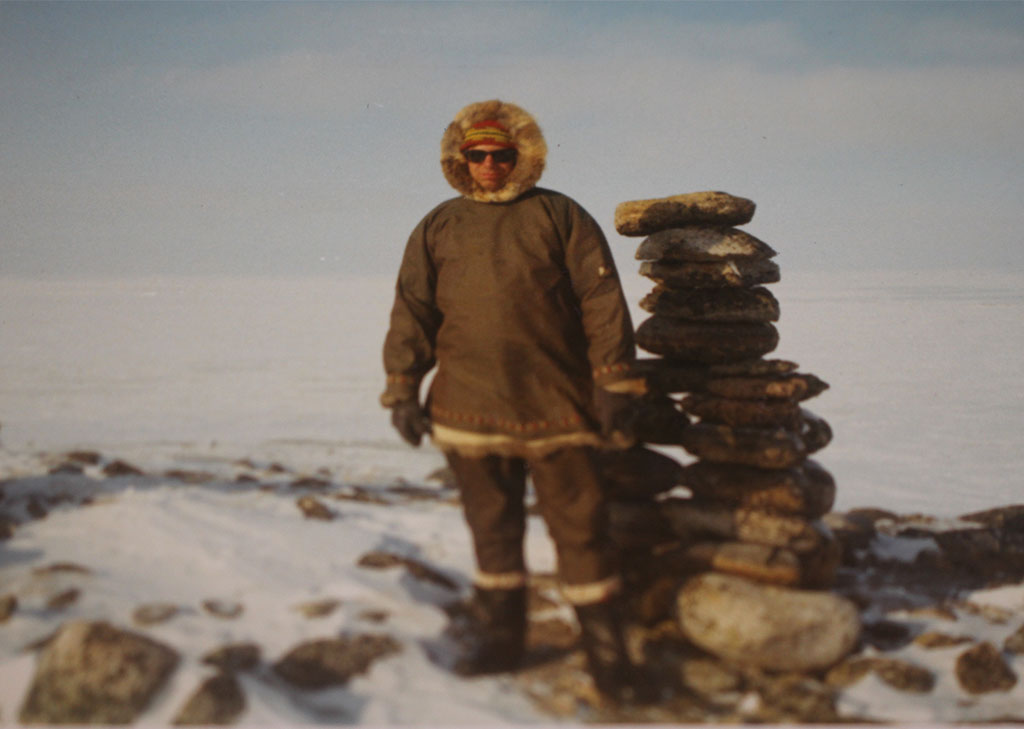 As the weather cleared we were on the move again. We spotted some caribou and I downed one, while the Inuit were stalking some others. One was wounded and I was instructed to finish it by inserting my knife into its brain. Well, that was a bit hard, but it won some respect from my co-hunters. Back into another igloo for the night, we gorged ourselves on boiled and fried caribou meat. I had noted that very little of each caribou went to waste. The antlers were kept for carving, the skins for clothing, and virtually all the meat, even the contents of the caribou's stomach that had the consistency of spinach.
Our final stop on this re-provisioning quest was a stop at an isolated DEW Line station where about a dozen kabloonas were attached to their radar screens for incoming Russian bombers and missiles. There was a canteen there, and after a bit of an icy welcome (very security-conscious in those days) we were allowed to purchase some cases of pop and chocolate bars, precious cargo as supplies of these in Gjoa were gone until ship-time in August. The cases of pop were wrapped in our sleeping bags and caribou skins in an effort to get them home before freezing.
A couple of kilometres from the community, we caught up with a dog team heading back from a hunt. We were two snowmobiles pulling loaded kamotiks (sleds) travelling at five times the speed. Our mode was more efficient in terms of time, if you were lucky enough to have one of the few wage jobs in the community. But as it was pointed out to me, you can eat your dogs if you get lost on the land, but you can't eat your snowmobile. And those dogs can alert you and fight for you if you are attacked by a polar bear that can easily stand up and knock down your igloo to get at the goodies inside.
Treasured Memories
This first caribou hunting trip with three Inuit made for some good instruction in local customs and some treasured memories to this day. One of the hunters with me, Uriash Pokenak, later became a Member of the Legislative Assembly when the "new" Nunavut Territory was created in 1999. On a more sombre note, one of my colleagues from this hunt, Frank Sheeotinoak, was lost a few years later in a boating accident when he fell out of a boat in a rough ocean.
I spent three years with the Hudson's Bay Company and it was good to me. I lived in five Arctic communities and did relief management in two Dene communities in northern Alberta. Good training, good fellowship, and good memories. I have a lasting appreciation of the traditional ties of our indigenous peoples to the land that has sustained them for so long.
***
To learn more about donating to Truth About Fur, click here.