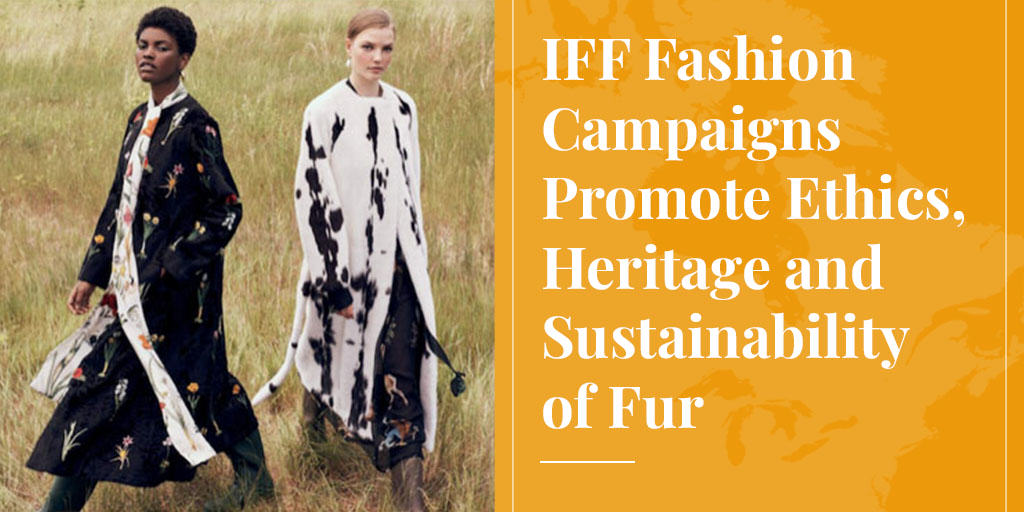 Responsible fashion, informed consumer choice, and the sustainability of fur are front-and-centre in two new fashion campaigns for Fall/Winter 2018-2019 from the International Fur Federation. In preparation for the global launch on September 3, TruthAboutFur's senior researcher Alan Herscovici spoke with the IFF's director of fashion, Jean-Pierre Rouphael, about these exciting new campaigns.
TaF: The IFF's new consumer campaigns take a very innovative approach, combining beautiful fashion photography with a strong environmental sustainability message. Can you tell us about this?
Jean-Pierre Rouphael: At the IFF's annual meeting last Fall, in Barcelona, the board decided it was time to promote the modern fur trade's unique sustainability credentials. The anti-plastic movement was dominating mainstream media and people were talking about the environmental damage caused by plastic – which of course includes fake fur. It was the perfect opportunity to emphasize our "natural" story – the sustainability of fur.
SEE ALSO: Fur is a sustainable natural resource.
Young people, especially, are increasingly concerned about how our lifestyles and consumer choices will affect the planet, so the timing is good. The challenge was how to tell this story in a fashion context. The solution we found is a two-pronged approach. One is a beautiful fashion campaign in Vogue magazine that incorporates our environmental message in the text. We call this campaign "Natural Wonder". And then we have a new digital campaign, called "Fur Now", which centres on creative young people explaining in their own words why they love working with fur, and part of the conversation is about fur's sustainability.
NATURAL WONDER Campaign
TaF: Let's talk about the "Natural Wonder" campaign in Vogue first.
J-P Rouphael: "Natural Wonder" is a three-month exclusive campaign in Vogue, in six major markets – Spain, Italy, Germany, France, Russia and the USA – plus limited usage in China and Korea.
This campaign has been launched in Vogue's September issue, and will be followed by ads in the October and November issues, as well as on Vogue's digital and social media platforms. The photography shows new fur creations by top designer brands, including Roberto Cavalli, Carolina Herrera, Oscar de la Renta, Fendi and others.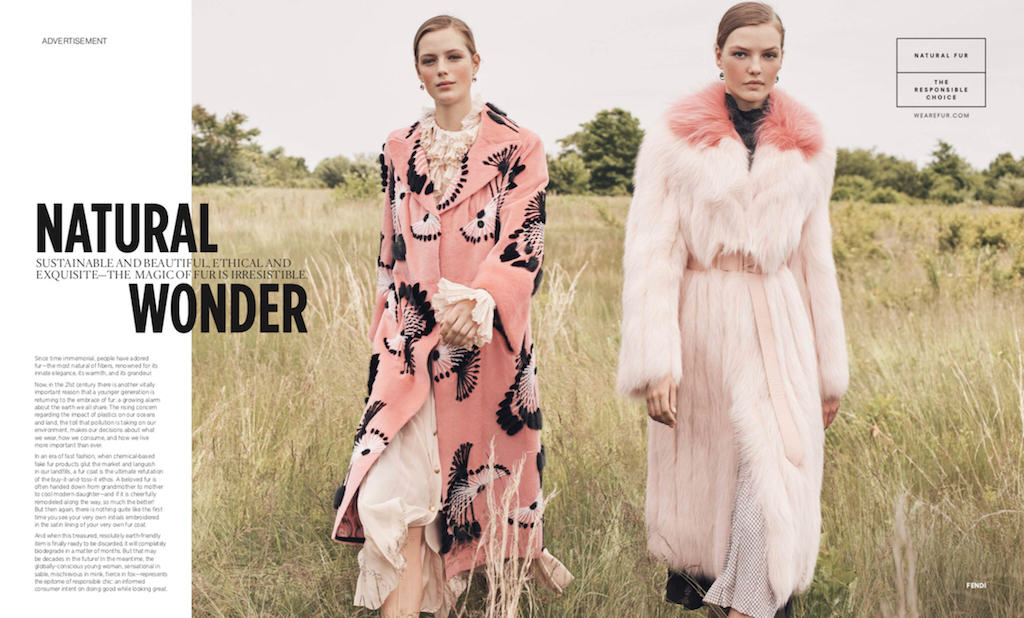 TaF: We notice that the fabulous photography is shot outdoors, not in a studio.
J-P Rouphael: Yes, the shoot was produced by the Vogue team, and we chose Dario Catellani to do our photography because he loves working outdoors, with landscapes and natural light. We felt that was important to reflect our message that fur is a natural product and a responsible choice.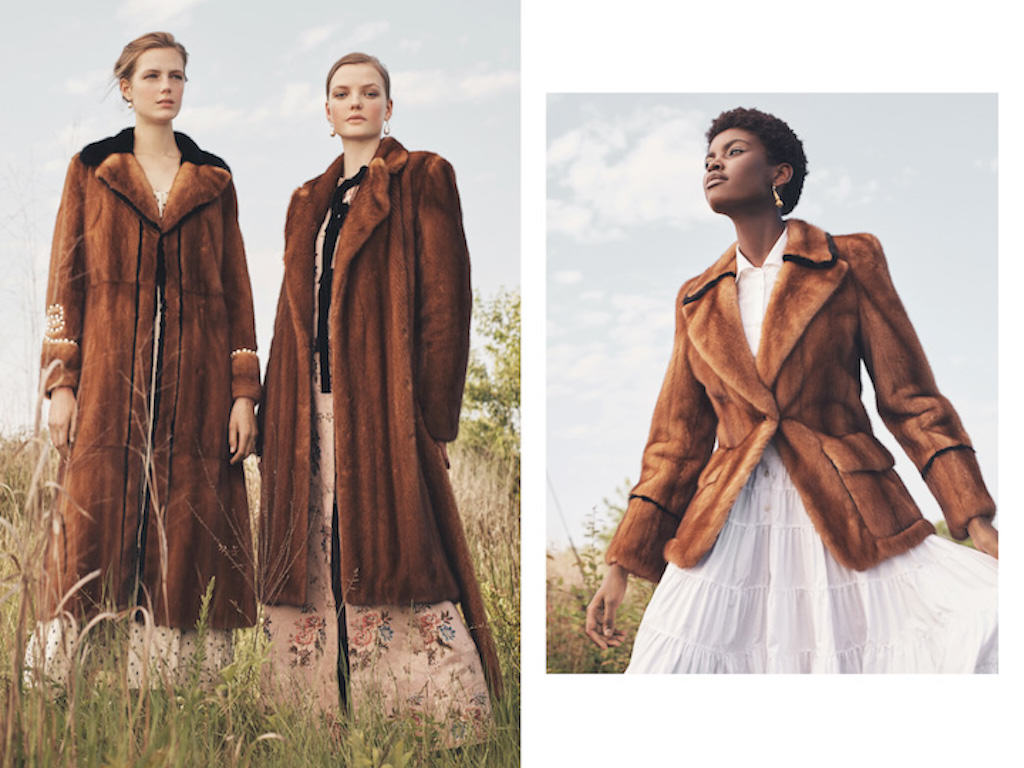 TaF: And the message is clear, right from the bold headline: "Natural Wonder – Sustainable and beautiful, ethical and exquisite, the magic of fur is irresistible."
J-P Rouphael: Yes, and the text that follows is also very direct. We explain that growing concerns about pollution caused by the production and disposal of plastics – like fake furs and other petroleum-based synthetics – make long-wearing and biodegradable natural materials, like fur, a better choice than ever. As we say in the text, "A fur coat is the ultimate refutation of the buy-it-and-toss-it ethos of environmentally destructive fast-fashion."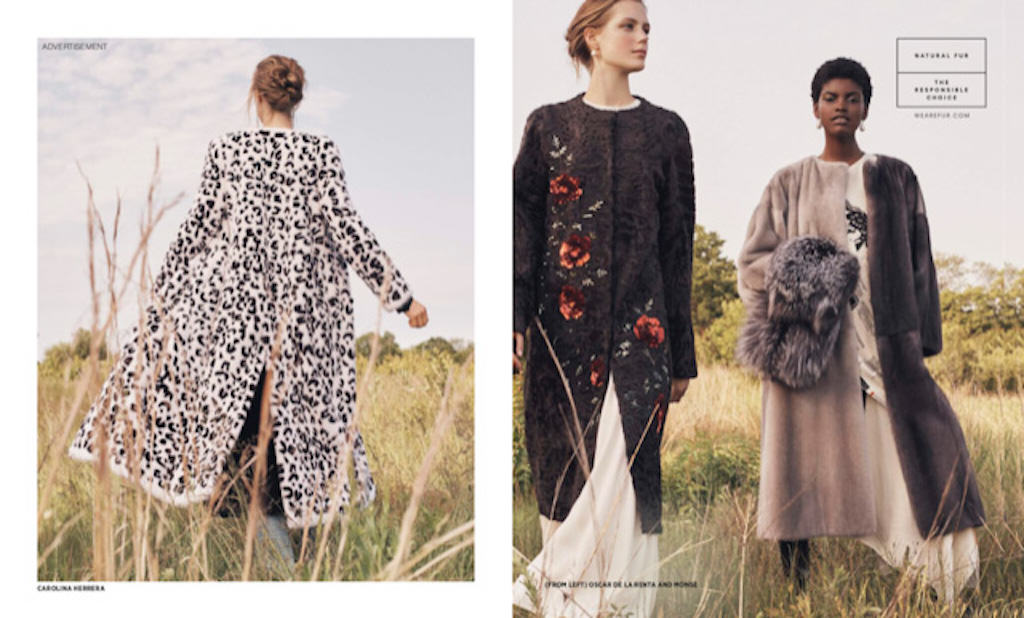 FUR NOW Campaign
TaF: Now tell us about your second campaign, "Fur Now".
J-P Rouphael: The Vogue ads will be supported and complemented by a brand new "Fur Now" campaign that we are especially excited about this year. We have created eight fast-paced video stories featuring creative young people who are actively involved in the fashion industry. We will be featuring one of these video profiles each month, from September through December, and another four from February through May. But you can see all eight of these wonderful young creators on the IFF website now or right here on TruthAboutFur (see below).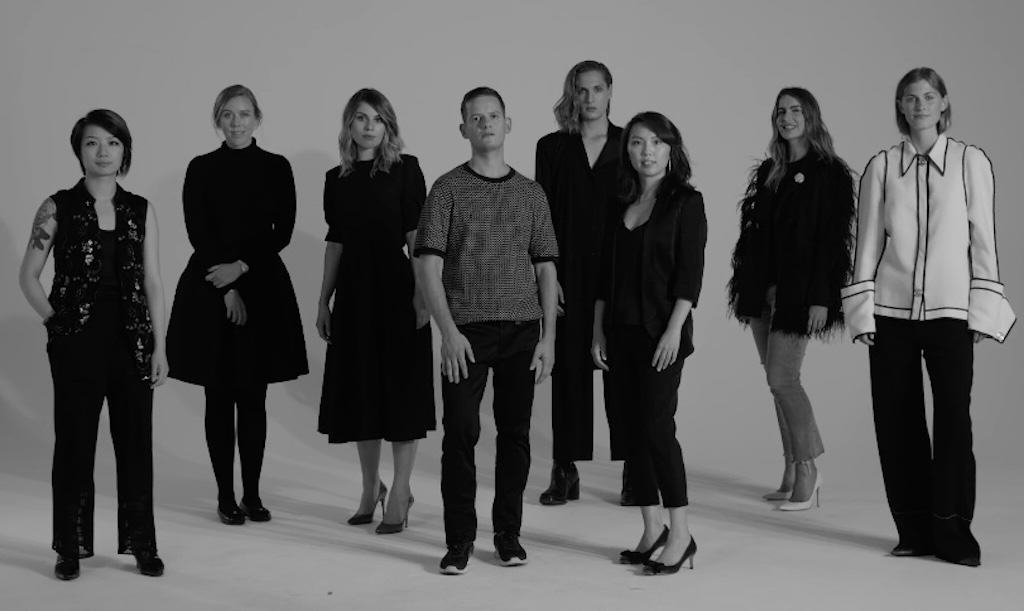 TaF: It's a very modern and engaging approach.
J-P Rouphael: Yes it is. These are real people and they express themselves in their own words. We intentionally did not script them; we just turned on the cameras and asked why they love working with fur, and that's why the videos are so wonderfully sincere and authentic.
TaF: You have chosen young designers, artisans, and businesspeople working in different markets, in Europe, Asia and North America.
J-P Rouphael: Yes, some are new to the industry, and some are bringing new energy and ideas to multi-generational family businesses, like the charming 21-year-old Romanian woman whose grandmother started their store in Bucharest. There is also a British fashion blogger, someone who doesn't work in the fur industry, but is nonetheless very interested in the environmental advantages of using natural materials like fur. These are authentic young voices that clearly demonstrate the dynamic creativity of our industry. And the fast-paced editing is also designed to speak directly to Millennials and Generation Z.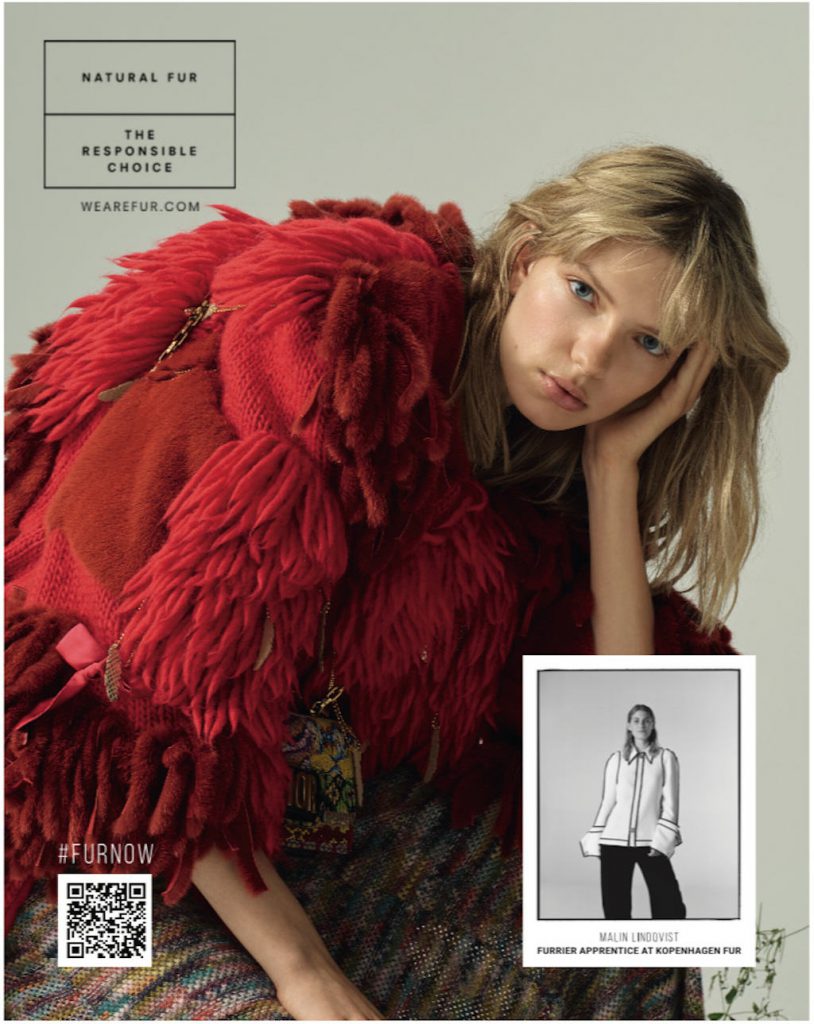 TaF: How will these "Fur Now" video stories be promoted?
J-P Rouphael: The campaign will be launched on Elle.com and HarpersBazaar.com through September and October. We will also have more than 40 print insertions in Elle, Harper's, Cosmopolitan, and Grazia in the EU. There will also be a mailer to the Elle and Harper's subscription lists. In all, this campaign will reach more than 100 million target consumers, compared to about 86 million reached by last year's campaign.
TaF: An exciting campaign, indeed! Before we go, tell us a bit about yourself and what these campaigns mean for you personally.
J-P Rouphael: I have worked in fashion communications for the past 14 years, mostly with luxury fashion. I was born in Lebanon and worked for much of my career in Dubai, with clients including Valentino and Ralph Lauren. I moved to London a few years ago, and I am especially happy to be working with the IFF because I love fashion and fashion marketing.
Although I am experienced in promoting luxury, working on last year's "Fur Now" campaign was brand new to me. But touching and feeling fur, shooting it, and seeing how it uplifts any outfit and look, it became organic and easy for me to advocate and sell it through imagery and communication as a timeless beauty while still a modern-day luxury.
And, of course, we have an important story to tell about fur being the responsible choice for our eco-conscious times, especially as we become more aware of the environmental problems associated with fake fur. We believe that we have an extraordinary opportunity now to spread this very positive message about fur. That's why the slogan appearing on all our communications is: "Natural Fur – The Responsible Choice".
FUR NOW Campaign Videos: