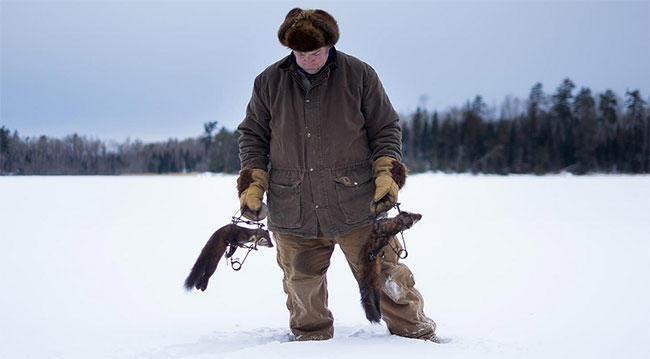 It's April, so let's start our Fur in the News roundup for March with Canada Goose, maker of some of the world's finest winter jackets. Unfortunately Canada Goose is now making headlines for the wrong reason.
"A complaint filed with the Competition Bureau alleges Canada Goose makes 'false and misleading' claims in the marketing of its popular winter jackets. Animal Justice – an animal rights group that filed the complaint on behalf of six individuals – disputes the company's claims that its jackets use coyote fur that is ethical and that coyotes are killed humanely," reported The Record from Toronto. It seems like the complaint doesn't have a coyote leg to stand on, but we are watching this closely nonetheless.
And since I'm on the topic of wild Canadian fur, my favourite article this month was from Al-Jazeera, who did this well researched article entitled Canada's Wild Fur Trade Returns. It has lots of pretty pictures, too (like the one above)! Let's hope people start to appreciate the wild furs from up North, so the business booms and the people there can afford the $65 chickens in their grocery stores.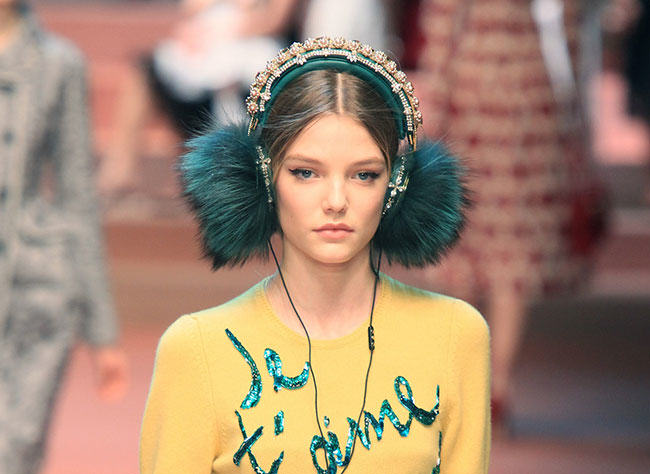 If you are planning on doing some shopping soon, we suggest these fur headphones from Dolce & Gabbana, a steal at $8,000 😉 You could also check out the goods from Elama, a Montreal-based fur brand that has been making waves, order a custom-made piece from Diane Giroux (she wrote a blog post for us this month), or step into Harpers in Bridgeport, Connecticut, which has just celebrated 75 years in fur retailing.
Recruiting on Campus
Meanwhile, we learnt a few worrying things about what's happening on university campuses.
First, this article from Protect The Harvest tells how activists are campaigning on campuses to try and recruit. Then we heard about this (absolutely ridiculous) course on feminist animal rights at George Mason University.
We've also found out that Parsons School of Design in New York has at least one instructor who could do with a refresher course on the meaning of primary research. An adjunct professor wrote a scathing article about the fur industry and its farming, but appears never to have actually visited a farm.
Lastly, I'm typing this from a desk in Finland, where I am guest lecturing at Centria University in Pietersaari, one of very few universities in Europe that offer a technical fur design course. I'll be reporting back to you about details of its students' work, this amazing course and the incredible campus.
Brrrrrrr…aless!
We can't do a monthly fur roundup without making fun of the activists, so here's a video of two girls protesting for PETA, half naked on an ice rink. Too bad they don't know how to skate or that ice skates are made from leather. Wouldn't it be nice for once if PETA tried to get the public's attention without naked women or falsified farm videos?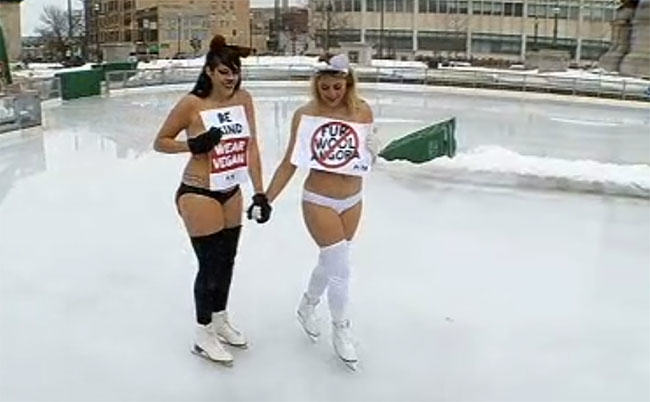 Our most popular blog post this month was entitled After 50 Years, Fur Trade Turns Tables on Activists which documents the history of the battle with activists, and how the fur industry is gaining on them. It seems like The Telegraph, The Guardian, Vice and The Daily Beast agree. Go fur go!
And PETA suffered a major defeat when a bill to reduce the kill rates in its "shelters" passed in the Virginia House of Representatives. Let's hope other states follow suit.
Meanwhile across the pond, a few annoying Brits are ruffling feathers, or shall I say, ruffling pelts. Joanna Lumley and ex-model Twiggy are campaigning to convince London department store Harvey Nichols not to reverse its fur ban. Given the popularity of the Origin Assured label and the fact that fur is a fashionable and profitable product to be selling, I doubt that's going to happen.
And the most annoying Brit of the month award (actually, second most annoying Brit since PETA president Ingrid Newkirk owns the title) goes to Stella McCartney, who not only showed a tacky collection of fake fur coats on her Fall 2015 runway, but is also trying to convince the Queen's Guard to replace their bear skin caps with fake fur.
At the Movies
March was a great month for video content. We loved Fur Insider's roundup of fur fashion street style from New York Fashion Week.
Then there was the hilarious "Why I Hate PETA" cat video (below) featuring a tune that is still stuck in my head!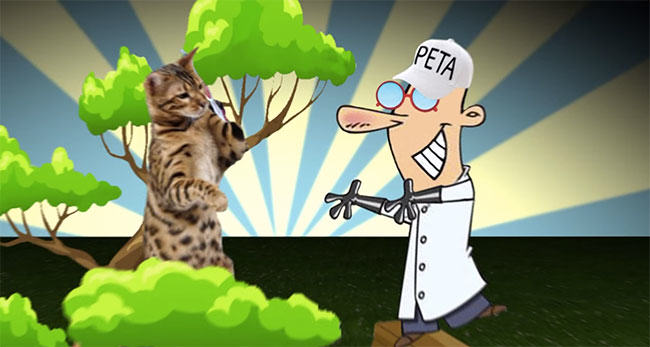 And we aren't surprised that this video from Katmai Natural Park & Reserve of a wolf and bear fishing has had almost two million views. It's an example of nature at its finest.
Great Greenland has made an amazing video about their seal hunt, and here's another one about the seal hunt in the Magdalen Islands.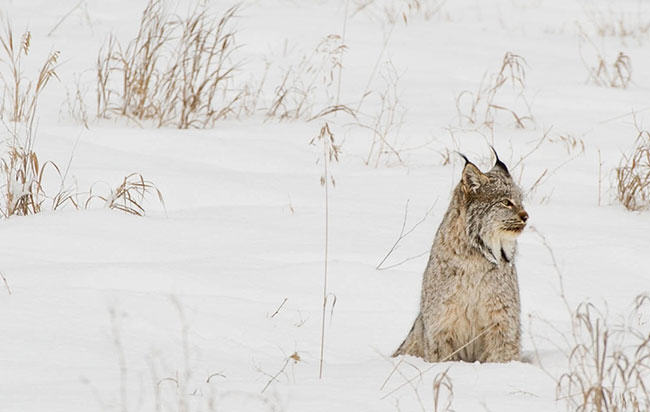 Lastly, let's look at the most popular images of the month. The awesome guy above got over 250 likes on our Facebook page! I'm not sure if it was because you all thought he was cute or if you want to make him into a scarf.
And this photo of a farmer saving a calf born in the snow by bringing him into the hot tub warmed our hearts (and the calf's heart, too, I'm sure). It's a good reminder that livestock farmers aren't the monsters activists portray them as, but rather are some of the hardest working, most compassionate people in the world – not to mention the fact they put food on our table!
Parting Shot
P.S.: If you've read this article to the end, you probably somewhat enjoyed it or at least thought it was interesting, so please sign up here to Truth About Fur – The Blog, so future articles are delivered straight to your inbox!