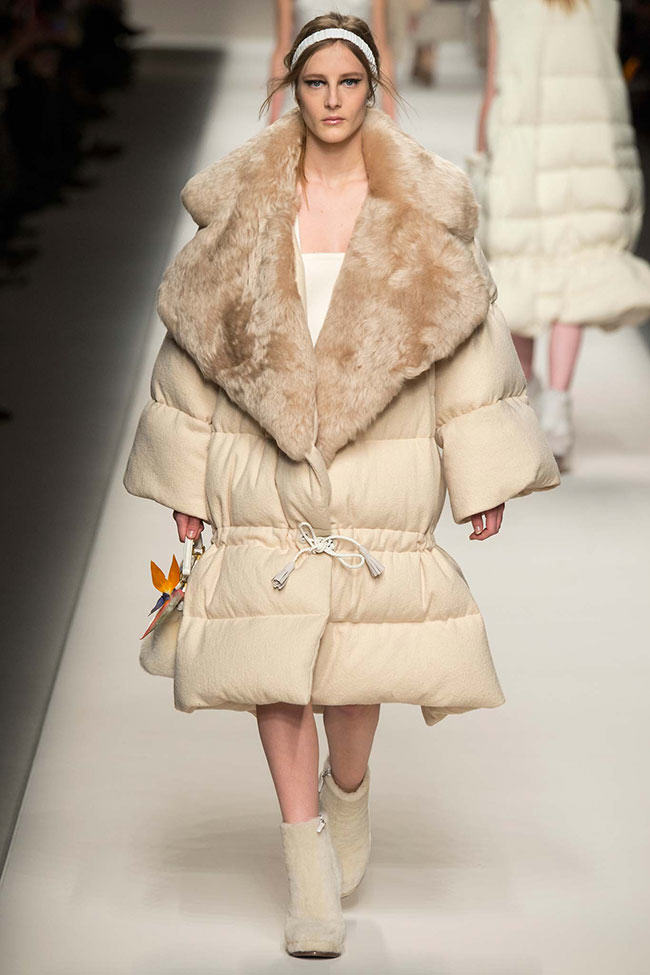 February 2015 has come and gone, and it's time for our Fur In The News roundup of the month's best stories. It's a furry time of year in the fashion world right now. For starters, we are still in the depths of winter and furs are all over the streets.
On the high fashion front, February is the start of fashion month, when the top catwalk designers show their Fall 2015 collections. Who ever said fur is dead was very wrong. (Well, technically the animals are dead, but fur is VERY alive on our catwalks.) Spotted all over New York, London, Milan, and soon, Paris, fur continues to be a staple in the designer collections.
We've got a soft spot for Fendi, who are famous for their furs and showed a collection of fur-trimmed down coats that look like Canada geese on drugs. (You'll also need some drugs to get over the shock of the price tags.) Check out their show on Style.com.
And while we are talking about designers, Pamela Paquin's brand Petit Mort has been getting a lot of press. She makes fur accessories out of road kill, and we love this feature on her finding her "materials." Of course, the animal rights terrorists activists are still kicking up a fuss, so let's talk about them for a moment.
Are They Terrorists? Hell Yes!
Many of us are following the case of Kevin Johnson and Tyler Lang, two animal rights activists who have served prison terms for releasing mink and foxes from fur farms in the US. They are facing federal charges (under the Animal Enterprise Terrorism Act) that may result in a further 10 years in prison.
People are debating whether they deserve to be branded as terrorists. We think you all know our feelings on the subject: you terrorize people and their farms, you are a terrorist. Read some articles on the story here and here.
And since we are on the (fun) topic of animal rights activists being charged with felonies, we also suggest reading this article in the New York Times about a woman who stole two ducks from a farm which produces foie gras.
We do loathe giving the activists so many column inches, but we'll end it with this fantastic video aired during the Superbowl. Made by the good people at the Center for Consumer Freedom and PeTA Kills Animals, it was inspired by the horrific kill rates at PeTA's "shelters." Warning: this is a bit of a tear-jerker.
"Fur: An Issue of Life and Death"
February saw the end of a fantastic exhibition on the fur industry, its issues, and its history. Entitled "Fur: An Issue of Life and Death", this show at the National Museum of Denmark in Copenhagen was a fascinating trip into the history of the use of fur, from ancient to modern times.
Featuring a massive collection of high-fashion items, the show certainly demonstrated the innovative designs that can be made from fur. There was a "guess your fur" activity (which demonstrated how fake fur can be good quality, as it was hard to identify which one was not real). Also highlighted were the fur and skin costumes dating from 1850 to 1950 from Greenland, Canada, Alaska, Siberia and the Sami areas of Scandinavia. The seal stomach raincoats were very interesting to see.
And while we are on the topic of seals, the seal hunt continues to make headlines, starting with some negative comments Canadian hockey commentator Don Cherry made about eating seal meat (he should just phoque off).
Seal poutine also made the news, and let's give a round of applause to Conservative MP Greg Kerr who passed bill C-555, which will double the size of the legal buffer that prevents observers from coming near the seal hunt.
Positive Ending
Let's end on an assortment of positive notes.
– We loved that Kid Rock wore an otter coat in order to spite his activist ex-girlfriend Pamela Anderson;
– This is a great little film about one of the US's largest mink farms (pictured below);
– And here is some interesting fur history: an article about 1920's beaver farming.
That's it for now. Spring is only three weeks away so enjoy these last days of winter with your minks, foxes, coyotes, lynx, beavers, and chinchillas, just as long as they aren't fake!