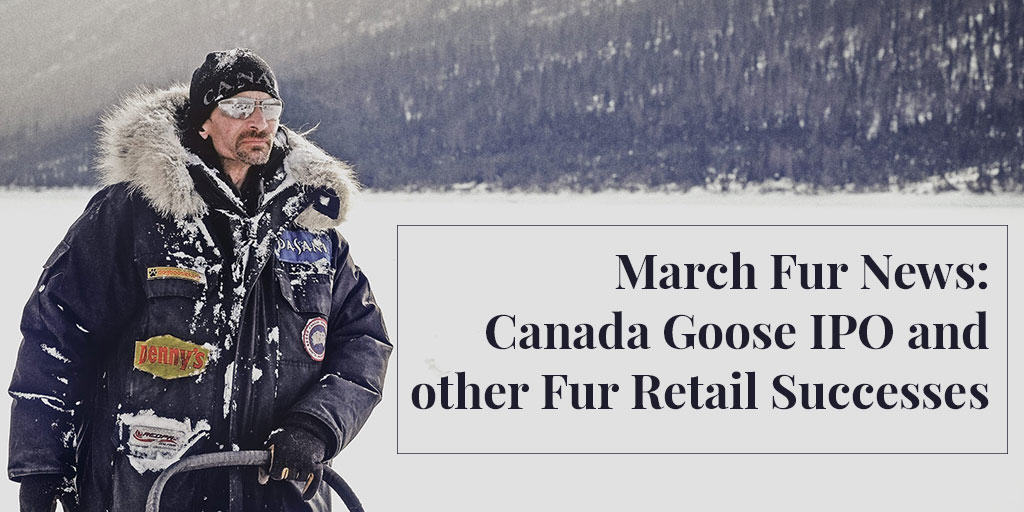 Fur retail had a great month in March! Let's start with the Canada Goose IPO, which soared 27% on the Toronto Stock Exchange on its first day. We guess the crazy protesters outside their stores aren't scaring off investors and customers. And there are other stores celebrating, too! Sch'dy Furs is celebrating 50 years in business, and Hinsdale Furriers has made it to 65 years. And hats off to Gently Loved Furs who have made it to their 10-year anniversary and the Anchorage furriers who are adapting their businesses to the changing times.
Speaking of changing times, the Fall 2017 fashion trends are leaning towards fur, very colourful fur to be exact. We were thrilled to hear that We Are Fur counted fur on 67% of the Fall 2017 catwalk shows. What's it like to wear fur-lined shoes every day? This guy tried it out and enjoyed it thoroughly. If you are looking for some new fur, then check out one of Lysa Lash's trunk shows; this Canadian designer is well known for her personalized service in fur retail.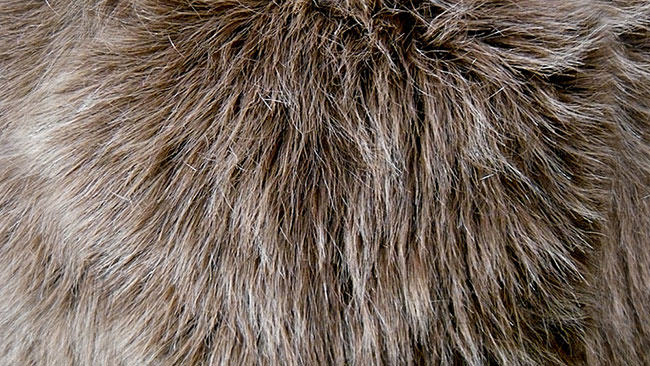 But not everyone is rushing out to buy furs, some people are standing outside fur stores protesting. But the fur protesters outside Canada Goose stores are the least of our worries. These activists stormed a church demanding animals be treated like Christians, while this crazy woman crashed her car into a truck carrying chickens because she is vegan. PETA says that being vegan makes you less aggressive but we are pretty sure there isn't an ounce of truth to this. And next time an activist tells you to switch to fake fur, remember to tell them the bad news: many fake furs aren't even vegan (above).
Sadly we are coming up to the key "season" for animal rights activists: the commercial seal hunt starts soon and this is the activists' main opportunity to raise money by using photos of baby seals (that aren't even hunted). If you want some facts (real facts) about the seal hunt, the Seals and Sealing website is a good start. The film Angry Inuk continues to have an impact on how people view the seal hunt, but we still need to work hard on spreading the good word about this traditional, sustainable hunt.
While we are on the subject of tradition and wild furs, these articles highlight the traditional aspects of trapping in Kansas and Vermont, and this Canadian trapper is passing on the know-how of his trade. We firmly believe that wild fur is the most eco-friendly clothing choice and trapping is an activity that must continue.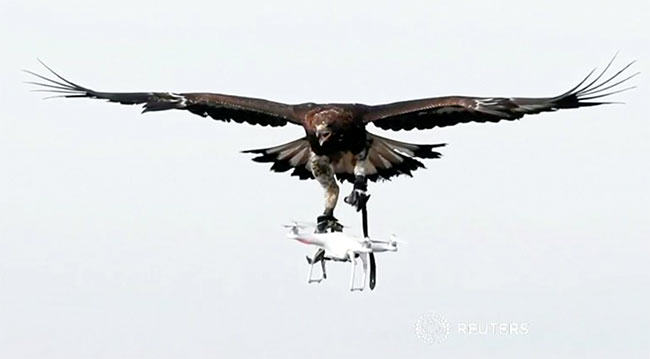 Let's end our roundup with some news stories we found extremely useful or interesting:
This article encourages farmers to be ambassadors for their trade;
Eagles are now the weapon of choice against drones (pictured above);
This is how to protect yourself against a mountain lion;
Canada Goose isn't just a clothing brand, it is a dangerous predator!