PAULA LISHMAN
Fur designer and manufacturer, Past president of the Fur Council of Canada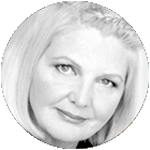 "Be proud to wear your fur and support people who choose to make a living from the land."
Paula Lishman is the creator of fur yarn, which resulted in "knitted fur", an exciting new concept that is now copied around the world. This rural Ontario-based designer lives in a unique underground eco-efficient house designed and built by her artist husband Bill Lishman. (He is also famous for flying with migrating geese in his ultra-light aircraft, a story recorded in the film Fly Away Home.) Paula Lishman is the past president of the Fur Council of Canada.
TruthAboutFur: How did you become a fur designer and manufacturer?
Paula Lishman: Because I am more than six-feet tall, I could never find clothes that fit in the small town where I was raised in Labrador. So I learned to make my own. I also learned to weave in Mexico, dye, card and spin wool, macramé, and knit. I worked with leather, and not liking patchwork, and wanting to use my left over pieces, I tried cutting leather into long strips and knitting with that. Then I thought, why not fur? The resultant fabric with fur on both sides, flexible, breathable, was exciting. We turned fur into a fabulous fabric, opening up many design possibilities. After lots of trials and errors, I developed my technique of cutting fur pelts into long continuous strips and twisting it around a strong cotton thread to make a yarn with fur on all sides, which looks something like a pipe cleaner. With that I can make fur garments that are as soft and comfortable as a sweater, with fur on both sides!
TaF: What do you like about working with fur?
PL: Everything: the texture, the smell, the natural colors, and the fact that it is an organic, renewable, long-lasting and yet biodegradable material!
TaF: How has the fur business changed since you first began?
PL: The retail distribution system for fur has opened up considerably. I was one of the first to start selling fur apparel to fashion boutiques and specialty stores, and that gives much more visibility. The increased popularity of fur in trimmings and smaller accessories makes it much more accessible for the general public.
TaF: How have fur styles or treatments changed?
PL: Our lifestyles are now more active and casual, and that opens new design possibilities. Now we are doing sweaters and jackets, Ponchos, shawls and headpieces and even throws that you can display on your sofa when you are not wearing it. My goal is to make a fur shawl that you can wear to the gala, the grocery store, to work, and with your pajamas. The incredible versatility of fur is being explored now in so many wonderful ways!
TaF: How long does it take to make a fur coat?
PL: It takes 40-60 hours for us to make one of my jackets, coats or throws and four or five hours for our hand knit hat or crocheted ring shawls. This does not count the hours and hours from the time the trapper sets his trap, through the auction or collection system, then the dressing or tanning, dyeing, shearing and time to move these pelts through all these steps. The real time to make a fur garment is overwhelming! This makes fur garments very valuable.
TaF: What are the main steps in making a fur coat?
PL: I work directly with the trappers who provide my beaver fur, because I want it prepared differently than most furriers: my pelts are opened from the back, to protect the softest belly fur. After dressing, the pelts are usually dyed. Then they are dampened, stretched and blocked in my atelier. When dry, the pelts are cut by hand, round-and –round — from the leather side — into a continuous, one-eighth-inch wide strip with a furrier's razor-knife. This strip is then twisted around a strong cotton thread to make the unique fur-all-around yarn with which we knit, weave or crochet our coats, jackets and shawls. Everything is done by hand and each garment is a unique piece of wearable art!
TaF: What would you say to a young woman who has never owned a fur coat, but is thinking of buying one?
PL: Go for it! Be proud of our heritage! I work mostly with beaver fur, which was the heart of the historical fur trade. Thanks to excellent management practices, there are as many beaver now as when Europeans first arrived on this continent – that's a real environmental success story! And remember: animals don't die of old age in nature. I think that wearing a beautifully-made fur – fur that would otherwise have rotted in the marsh long ago — is a way to honor the life of the beaver and show our respect for nature, while enhancing our own lives.
TaF: What do you think are some of the most exciting new fur products available now?
PL: Bags, shoes, knit shawls, throws, and blankets. You can wrap yourself in fur. And it is extraordinary that new tanning methods let furs like mine – made without a lining – to be cleaned in your home washing machine! With shampoo for colour-treated hair of course!
TaF: What do you think of anti-fur protesters?
PL:. Everyone is entitled to their own opinions, and no one is obliged to eat meat or to wear fur or leather. But when you try to impose your ideas on others, when you vandalize other people's property, then you're just a criminal and should be prosecuted as such. Intimidating and "bullying" women wearing fur is a form of terrorism, and is out of place in a modern, educated society.
TaF: Anything else you'd like to tell us about being a fur designer/manufacturer?
PL: Only that I do love working with this extraordinary natural material. I love the variety and versatility of fur….the different fur types, the different hair lengths and textures. Above all, for a designer, the three-dimensionality of fur opens so many possibilities. And to consumers, all I can say is: try it! Be proud to wear your fur. You are supporting people who choose to make a living from the land.