ADRIENNE LANDAU
Fur designer and manufacturer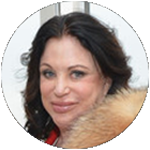 "There's nothing like fur. I love it; it's luxurious, glamorous and so sumptuous!"
New York based designer, Adrienne Landau, has attracted customers and retailers throughout the world with her beautiful and fresh collections. Her mixture of exotic furs, cashmere, and detailing has captured the eye of many celebrities and socialites becoming one of the most comprehensive fur lines on the market. Not only does she design fur, capes, and stoles but Adrienne also has extensive collection of handbags, home furnishings, and menswear. To see her collection, visit her site www.adriennelandau.com
Truth About Fur: Why fur?
Adrienne Landau: There's nothing like fur. I love it; it's luxurious, glamorous and so sumptuous! I love doing unexpected things with fur, from fur covered furniture to mink flip flops. There are so many fun things that can be done to always bring freshness to a fur piece.
---
TAF: What are your favorite types of fur to design with?
AL: I love fox, mink, goat, and lamb. I love mixing furs as it brings me back to my roots as a painter when I get to combine different textures and colors. I love finding new techniques of combining furs from weaving to collaging. There are always new combinations to be found, which brings newness every year.
---
TAF: What inspires you?
AL: I love the urban environments and I love nature. The two combined are what makes my brand what it is. Being in Metropolitan areas like New York inspires me so much because I see the 5th avenue fabulous ladies and the downtown cool girls wearing the same items in different ways. Nature to me is inspiring because there are so many colors and textures to draw from and I like to bring this to my work. I love to observe nature whether it's a gorgeous sunset on the beach or a snow covered mountain, or even being in a jungle or a desert. All of these have their own special color palette and moods that are so powerful.
---
TAF: What would you recommend for a first-time fur buyer?
AL: Go simple; a first fur should be something you can wear all the time. I think a great vest is the perfect first piece or a little jacket. I know black seems like a safe option, but natural colors or jewel tones such as merlot or sage green can be much more striking and just as versatile.
---
TAF: How do you describe your design aesthetic in three words?
AL: Opulent, original, organic
---
TAF: What do you see as the key fur investment pieces this season?
AL: A knitted fur oversized vest is so on trend, practical and a great layering piece!
Colored fur accessories are great! It is a mix of fun and luxury that I just love as well!