HOWARD TRAGER
Fur broker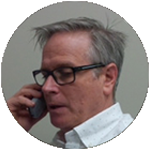 "For me, it's the people. The world fur trade is a relatively small international community. "
Howard Trager is a fur broker based in Montreal, Canada, who, with his father, buys and sells fur pelts.
TruthAboutFur: How did you become a fur buyer?
Howard Trager: Like so many people in this trade, it is a family business. My father and uncles were in the business and when it came time for me to choose a career I realized that I had caught the fur bug too!
TaF: What does a fur broker do?
HT: We generally buy furs on the behalf of designers and manufacturers. Sometimes we buy furs for ourselves and sell them to smaller manufacturers during the year, to companies that are too small to buy all their fur during the auction sales. The auction houses receive fur on consignment from fur farmers and trappers; they sort them into "lots" of various types and qualities, and invite buyers to come to several auction sales each year. We attend all these sales for our clients and, using our expertise, we buy on their behalf.
TaF: Describe a typical day for a fur buyer at an auction sale?
HT: We arrive at the auction house several days before the actual sale begins, to review the offering. We receive a catalogue the lists the "lots" that will be sold. We mark the "lots" that may interest us and an auction-house "porter" brings us samples from each "lot" for inspection, so we will know the size and quality. A sample "bundle" of 7-10 pelts may represent a "lot" of 100 to 10,000 pelts. We make our notes on the catalogue and estimate the value of each "lot" we are interested in, based on our knowledge of market conditions and previous auction sales, in Canada or internationally. We also meet people we know, other brokers and buyers from around the work, and we find out more about market conditions in different regions, to gauge how strong demand may be for various fur types. The auction sale is a real barometer of world business conditions. With this information, we call our customers to determine how much they are ready to spend. Then we go into the auction room where there will be 400-500 buyers bidding on each fur "lot". And this is how fur prices are established, by supply and demand. I think it is also good to know that the fur producers, the farmers and trappers, receive the full value for their furs, with the auction house only deducting a small commission to cover the costs of collecting and sorting the furs and holding the sale.
TaF: How has the market changed in the years you have been in the fur business?
HT: When I started in the late 1970s, North American companies were by far the strongest buyers, with support from the German and Italian fur trade. By the late 1980s, the Korean and Japanese buyers became more important buyers, as their economies were booming and fur sales – and fur manufacturing — there surged. Now we see the Russian and especially the Chinese buyers coming on strong. Russians, of course, have always loved fur. And with globalization, the lower labour costs in China have become a great advantage and much of the fur manufacturing has shifted there. Because of the rapid growth in their economy, China is also becoming a major consuming market.
TaF: What do you like most about being a fur buyer?
HT: For me, it's the people. I love meeting people from all around the world. The world fur trade is a relatively small international community. We see each other at auctions and fur fairs several times each year. During the day, in the auction room, it's war, we are ferocious competitors, but after five, we are having supper together and talking in the bar and it's a real community of people who share a passion for this fascinating heritage industry.