SONJIA WILLIAMS
Head designer and creative director for Annabelle New York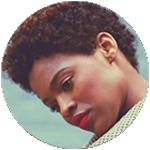 "Fur is luxurious. It's so soft to the touch, but so strong and bold."
A Boston native, Sonjia Williams studied design at Lasell College in Newton, MA. She began her career as an independent fashion designer, and even landed a spot on Season 10 (2012) of Project Runway. Since then, Sonjia has become the creative director and fashion designer for Annabelle New York. Her collection of bold statement pieces caught the eye of the industry's influential department and specialty stores. Sonjia's lookbook can be found on her blog Something by Sonjia.
Truth About Fur: What do you like about working with fur?
Sonjia Williams: Fall 2013 was my first season at Annabelle New York, and also my first time designing fur. I feel like I stumbled upon designing fur, but it was love at first design. I love that I'm able to manipulate fur in a way that I can't with fabric. Fur is luxurious. It's so soft to the touch, but so strong and bold.
TAF: What are your favorite types of fur to design with?
SW: I lovvvveee fox and raccoon. They dye so beautifully which is great because I'm really into colors. There is also something about kidskin that I love too. I'm still learning so much about fur and I'm excited to experiment with different furs and new techniques.
TAF: What inspires you?
SW: I'm inspired by so much when it comes to my designs. Living in NYC is inspirational within itself. The people, the buildings, the graffiti; every day in New York is a new experience and new inspiration. I also love to look back at history and find new ways to make it modern.
TAF: What would you recommend for a first-time fur buyer?
SW: I would recommend starting off small with a vest. Fur vests are such a staple piece, and they are so easy to dress up and down.
TAF: How do you describe your design aesthetic in three words?
SW: Feminine, strong, and bold.
TAF: What do you see as key fur investment pieces going forward?
SW: I see mixed media happening even more for the upcoming seasons. I think mixing fur with leather, wool and other fabrics makes it cool and functional.